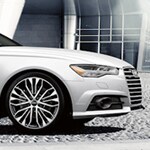 When it comes to full-size sedans, the automobile market has an abundance of options. The Audi A6 fits the bill perfectly when it comes to this particular category. The A6 is also luxury based, and it will offer phenomenal handling. The car's frame is athletic and chiseled as well as easy on the eyes.
The Audi A6 comes equipped with exceptional advancements. This includes a top-view camera that will display a 360-degree image of the vehicle. Safety is no stranger when it comes to the A6. This car comes with the latest in safety advancements, such as Lane Departure Warning, Adaptive Cruise Control, and Audi Pre-Sense. The vehicle's radar-based sensors do a great job of scanning the roadways for potential hazards. The A6 even allows you to answer phones, read messages, and select the radio via its infotainment screen.
The Audi A6 is the ideal choice, so speak with our reps for a test drive.